How to check and print original jamb result and Admission letter 2021 without paying a dime?
There are reasons we visit Cybercafe, I still visit cybercafe, cybercafe is still important and needed but there are simple things we can do with that our big phones than going to the cafe.
We should know that this article is only trying to help ( education purposes ) and not criticize or spoil anyone's business, if you are not good at using the internet, please visit any cyber cafe around your location and get your original jamb result.
Note: Cybercafes will only take extra charge for their work and for printing the original jamb result, the original jamb result cost only 1000 naira which will either be paid with your credit card or theirs, for security reasons make sure the cyber cafe owner runs the transaction after then you can pay.
Make sure you have taken note, and now let us proceed, this article won't take much of your time as we are making sure we take you through the possible and easy way to do this.
This information is for candidates that participated in the 2021 examination and for others too that participated in other years, this guide will be helpful to everyone.
For those without a JAMB account, please follow this link to create one
The Jamb original result you will likely need during the screening exercise and some other stuff in school. this result contains your details such as your passport, names, address, DOB, JAMB result, and more.
Also in this article, you will learn how to print your Admission Letter, this is important, especially once you are giving admission you will need it.
Read this: Candidate should know about JAMB Release Date for UTME, DE registration | Closing Date, JAMB Registration fees
How to Print JAMB Admission Letter
Login to your JAMB profile
After Successfull Login into your dashboard, check out for "Admission Letter".
you are only paying 1000 naira for this process just like printing your Original JAMB result.
Make sure you click "continue with Remita", after success payment, proceed to print your result slip by "selecting your exam year" and enter "jamb Registration number".
Make sure you print out the admission letter, below this article we talked about how to save print out your slip from your mobile phone
For the next process, you can handle it yourself with our guide that comes with pictures, you are only paying 1000 naira for the process on the JAMB official platform with your credit card.
Apply for an easy to achieve scholarship scheme

READ THIS: MTN Foundation Top 10 UTME Scholarship Scheme 2022

READ THIS: MTN Foundation Scholarship Scheme Blind Students in Nigeria 2022

READ THIS: List of NUC Accredited State universities in Nigeria
How to check and print original JAMB result
Firstly, before printing our result we have to know how to check it, sometimes I dropped a full post on this check our related post they can be really helpful.
READMORE: 2021 JAMB UTME result is out

READMORE: When are jamb candidates expecting their 2021 result?
So how do we check our jamb result, follow the step below and check out the result:
Go to the JAMB result checking portal at https://portal.jamb.gov.ng/eFacility_/CheckUTMEResults.
Enter your JAMB Registration Number/Email Address in the required column.
Click on 'Check My Results'.
The portal will load your result if it's ready.
Do you want to know how to check it through SMS, follow this link and check the steps as we proceed to the main part of this article
How to check and print original jamb
Login to your JAMB profile through http://portal.jamb.gov.ng/efacility/Login.
Under the list of services (on the left side of the page), click on the "Print Result Slip".
3. click "continue with payment" to make payment via the Remita platform.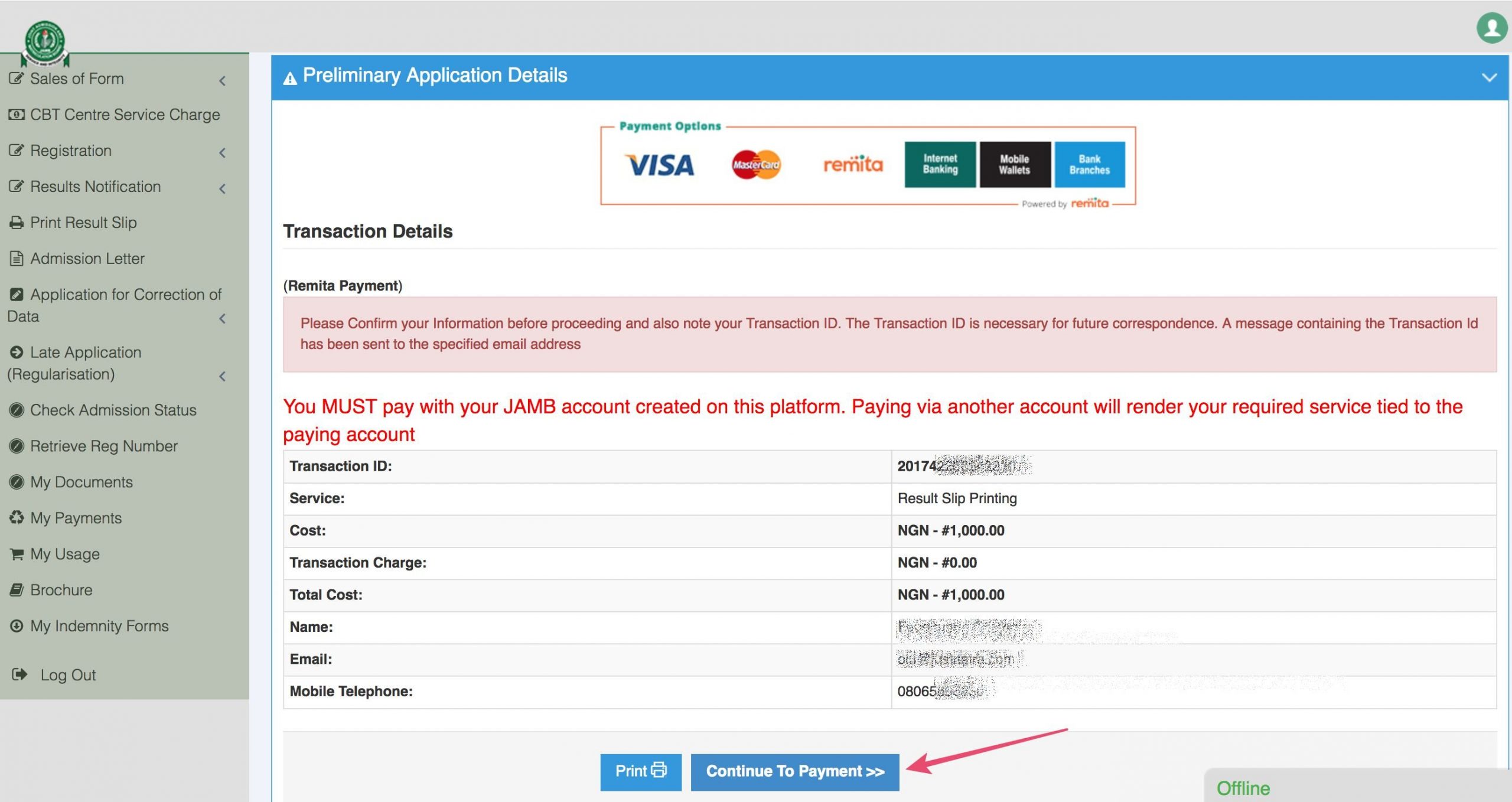 4. After a successful payment, you can now proceed to print your result slip by 'selecting your exam year' and entering your 'JAMB Registration Number ' in the required columns.
NOTE: You can request your result slip to be sent to your email or be printed directly from the portal.
How Important is the Result?
The original Jamb result is very important and you need it because of the following reasons:
You need this document for screening purposes.
You want to start your registration process for the school you are admitted into. Your school will ask for this document as a requirement (To verify your JAMB Score) for a successful registration.
You want to push for your admission into your school of choice either through supplementary or other admission lists.
You are a student of a school and you want to process something, you may need your originanl jamb result.
You want to confirm your final score.
Frequently ask questions (FAQ) and Answer
Most of the questions asked by students will be listed below here:
Is the 2021 JAMB online result out?
Yes, the Jamb result is out, you can check it now on their portal or go through this article again.
How can I print my jamb result?
We have the procedure in this article you can check and follow up with the procedures
How many marks do JAMB score?
The JAMB result is usually over 400, with each of the four subjects carrying 100 marks.
Conclusion
Well, I hope this article was helpful, if you want more of this kindly drop it in our comment section and we will kindly drop an article on that.